Patrick Alexander is the Director of the Centre for Educational Consultancy and Development (CECD), Oxford Brookes University. He is also a college lecturer in Social Anthropology at St Hugh's College, Oxford. Patrick was brought up in Hong Kong and has lived in London, America, Mexico and Spain before settling in Oxford with his wife Laura, daughter Alma and newly-born baby James. Patrick loves music and loves travelling; he has combined both of these passions playing guitar for a succession of successful indie rock bands including The Wedding Present, The Young Playthings and The Pipettes.
1. What is your name and where do you live?
My name is Patrick and I live in a little village called Yarnton outside of Oxford.
2. What is your favourite soulventure?
I would love to spend some time in the Amazon. Well at least enough time to enjoy it before getting eaten a lot by bugs!
3. What's something that no-one would guess about you?
When I was a kid I was a child model. If you bought electronic battleships at the end of the 80s I was the kid on the box.
4. What single thing would improve the quality of your life?
More time in the sunshine. Having more time to be creative and spend time with family while getting some sun on my bones. I grew up in a hot climate and after 20 years of living in the UK I'm starting to crave some time out in the tropical sun.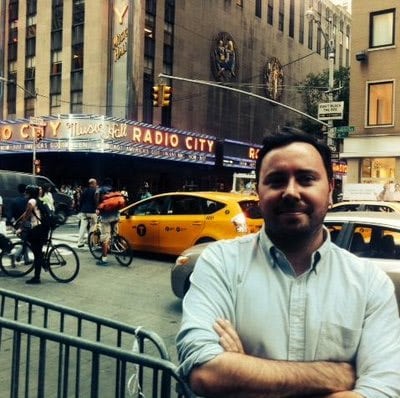 5. If you could be doing anything, anywhere, right now, what and where would it be?
Probably in a dark rock n roll bar with some pals playing some loud music, drinking and having fun – but maybe one that leads out onto a nice Mexican beach where my family is so we can spend a lovely sunset together playing in the sand.
6. Of what are you most proud?
My little daughter Alma. She's the best thing in the whole wide world. A few weeks ago she did a giant poo in my hand and I was incredibly proud, so she can do no wrong.
7. Who do you most admire and why?
I really admire people of conviction. Like Karl Marx.
8. Best kiss of your life?
At a James Bond theme party in December 2007. My costume was a tux with an eye patch. Ten years later and the kiss led to love,' marriage, and my proudest moments.
9. What is a new skill you'd like to learn (and why?)
I'd like to learn to sail so that I can justify owning a boat, and so that I can justify growing a captain birds eye beard. The few experiences I've had of sailing filled me with happiness and cruising around on water sounds like a nice way to spend more time.
10. Woods, mountain, city or sea?
Sea every time! I am drawn to the great abyss because it makes you feel tiny and awesome all at once.
11. If you could say one thing to lots of people, what would it be?
Be kind, and take it easy – but take it! (I stole that off Woodie Guthrie)
12. What makes you happy?
Funny people. Smart people. Creative people. Challenging people. Boozy Sundays involving all four in that order.
13. What is your guiltiest pleasure?
Shit TV. I can watch hours of bad TV and come out feeling like a more intelligent person. A lot of what I know about the world is from TV watched between midnight and 4am. And rum.