Originally a Cambridge native, Kirstin is an accomplished freelance stills photographer with a Bachelor of Arts degree in Fine Art Photography. She currently lives in East London with 3 black cats.
Kirstin spent the first 8 years of her career shooting documentary photography at the international catwalk shows in New York, London, Milan and Paris for British Elle Magazine. This work went on to inspire her to write and publish a book of her images from the shows titled A Front Row Seat,  (published by ACC Publishing).
The book was published in 2011 and launched alongside an exhibition, 'Catwalk to Cover' at The Fashion and Textile Museum in London.  Kirstin's book and exhibition caught the attention of Getty Images, as a result she has gone on to become a well-known contributing and assignment photographer for the company and has been working with them for over 7 years.
Kirstin has continued to work at fashion weeks around the world mainly specialising in street style and backstage fashion and beauty. However with her considerable experience in the entertainment space alongside the catwalk shows, she also regularly covers major industry events such as The British Fashion awards, Royal Ascot and in store events for clients such as Louis Vuitton, Burberry, Yohji Yamamoto and Toni and Guy. Alongside her event work Kirstin has a comprehensive portfolio that includes editorial, advertorial, portrait, commercial and look book commissions. Her work has been published both online and in Magazines all over the world including British Vogue, Elle UK, Grazia, Get the Gloss and Net a Porter. She has also worked directly on shoots with clients such as Chanel, Louis Vuitton, Harrods, Heathrow, Todds, Schwazkopf Topshop and Fuji Film.
1. What is your name and where do you live?
My name is Kirstin, I live in East London with three black cats
2. What is your favourite soulventure?
For me life itself is a soulventure. As the philosopher and activist Mahatma Gandhi said, "Where there is love there is life".
I'm blessed to be working doing a job I love that allows me to travel to places and meet people I never dreamed would be possible. My camera has been my passport to many different worlds and I hope many more I've yet to experience.
Aside from photography, my happy place would have to be the beach. I find the ocean magical and the shore a place I can decompress from city life, reflect and find mental space to allow my mind to wander.
3. What's something that no-one would guess about you?
It would most likely be the fact that I can be quite shy and overly self critical at times but you probably wouldn't know it.
4. What single thing would improve the quality of your life?
A great relationship with a good man.
My camera has been my passport to many different worlds and I hope many more I've yet to experience.
5. If you could be doing anything, anywhere, right now, what and where would it be?
Yoga and meditation on a beautiful beach somewhere sunny and calm.
Yoga helps to keep me physically fit and connect with my body, meditation helps balance my mind by making time for my thoughts and feelings, allowing me to find peace to process both in a healthy way.
I find both practices so important living in a bustling fast-paced city like London.
6. Of what are you most proud?
The book I had published in 2011, A Front Row Seat and the accompanying exhibition Catwalk to Cover at The Fashion and Textile Museum in London.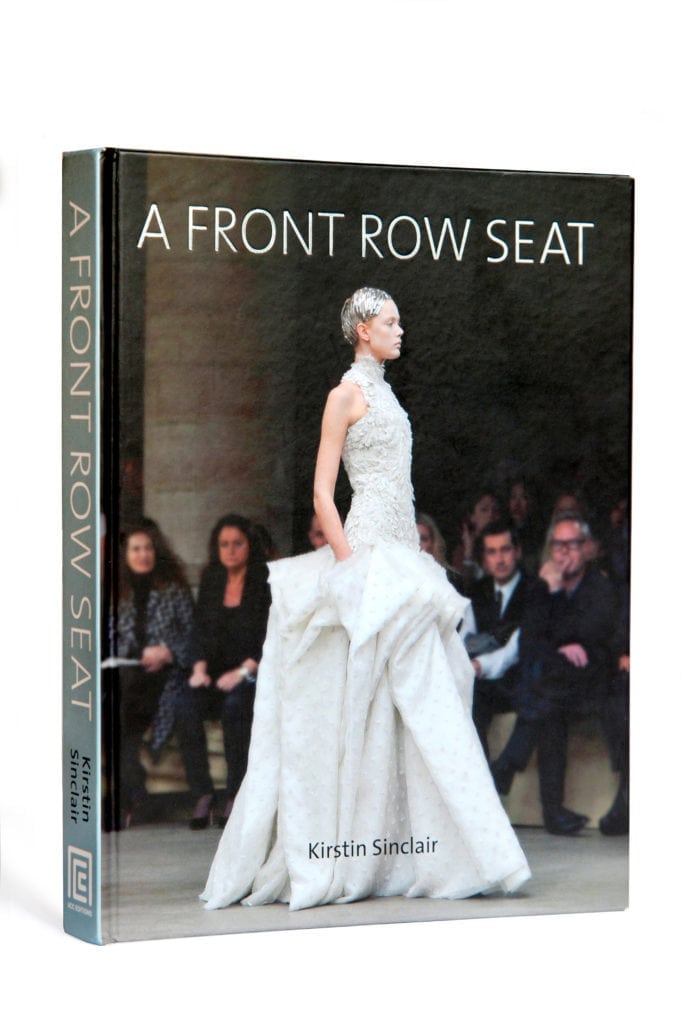 7. Who do you most admire and why?
I admire anybody who responds rather than reacts to situations, it's something that took me a long time to master and has greatly improved my relationship with myself and others.
To name a person I'm going to go all out and name two as they come as a pair: Mum and Dad.
My parents are kind, fair people who have always been there to offer valuable guidance and support throughout my life, tirelessly encouraging me to follow my dreams. They taught me self-respect from an early age and to work hard if I wanted to achieve great things.
I can't hold their spirit, love and wisdom in enough high regard.
8. Best kiss of your life?
The musician in question knows exactly who he is, when it was, where and how it happened. That's all I'll say 😉
9. What is a new skill you'd like to learn (and why?)
In my industry I'm constantly evolving not only in my style but also in perspective. I feel you need to be a pioneer to stand out which makes learning new techniques and equipment key to my craft.
To answer the question with a specific skill in mind, I'd love to improve my French. I work in Paris around 6 times a year and have a basic grasp of the language but still don't feel I've fully mastered it.
Not only would it help at work, communication is key to understanding and connecting with others so having one more language in my repertoire would be a huge bonus particularly when travelling.
10. Woods, mountain, city or sea?
Every second breath we take comes from the oceans; the most important yet increasingly fragile and (for me personally) beautiful eco-system on our planet.
Tears, sweat and the sea; I believe that salt water can heal, so for me it would always be the sea.
11. If you could say one thing to lots of people, what would it be?
To quote Mahatma Gandhi again;
"Strength does not come from physical capacity. It comes from an indomitable will"
With that in mind be strong and strive for what you want whilst remembering to be kind to yourself and others in the process and most importantly trust your own intuition in life when making decisions, those gut feelings are there for a reason. I believe in the end hard work and good karma will pay off!
12. What makes you happy?
Physiologically speaking, endorphins!
No, but really I don't think happiness for any of us comes down to one thing, it comes about through having a good relationship and understanding of yourself and is then created by the choices we make based on that understanding.
For me personally I would say a loving relationship with a good partner, my chosen craft of photography, my close friends and family, the beach, yoga, sunshine, music, dancing, good food … I could go on and on…
Oh and a good hug is always a blessing at the end of a long day.
13. What is your guiltiest pleasure?
I love a nap and red velvet cupcakes!