Kate is a UK food blogger (Veggie Desserts), food magazine columnist and cookbook author, originally from Canada but now based in leafy Somerset. Kate is best-known for creating inventive recipes for vegetable cakes and other desserts and is unashamedly obsessed with vegetables, whether they're in her breakfast, dinner or desserts. Kate's kale cupcakes, spinach cake, parsnip spice loaf, chocolate beetroot cupcakes are testament that she doesn't hide vegetables; they stand loud and proud in desserts and cakes when she's around!
1. What is your name and where do you live?
I'm Kate Hackworthy and I live in Frome, Somerset
2. What is your favourite soulventure?
Camping, specifically waking early and unzipping from your cocoon while the world is damp and still.
3. What's something that no-one would guess about you?
I once managed a wrestling team. (It was the school team, I was 15 and I just did it to meet boys.)
4. What single thing would improve the quality of your life?
I'd love a housekeeper. Not just to clean, but to do all the household admin too.
5. If you could be doing anything, anywhere, right now, what and where would it be?
I'd be at home with the family and discovering that we had just won the lottery.
6. Of what are you most proud?
I'm proud of turning the despair of redundancy into a successful blog and published cookbook.
7. Who do you most admire and why?
The many people who have the courage to bring about change and improve the world.
8. Best kiss of your life?
When I got married. It was such a magical moment.
9. What is a new skill you'd like to learn (and why?)
I really need to learn to drive!
10. Woods, mountain, city or sea?
I love the woods. The stillness, the cool, crisp air and the smell of the trees.
11. If you could say one thing to lots of people, what would it be?
Be kind to one another.
12. What makes you happy?
Exploring new places with the people I love.
13. What is your guiltiest pleasure?
I work at home, so I get to sing and dance badly to cheesy music whenever the mood takes me. Nobody should ever have to witness this.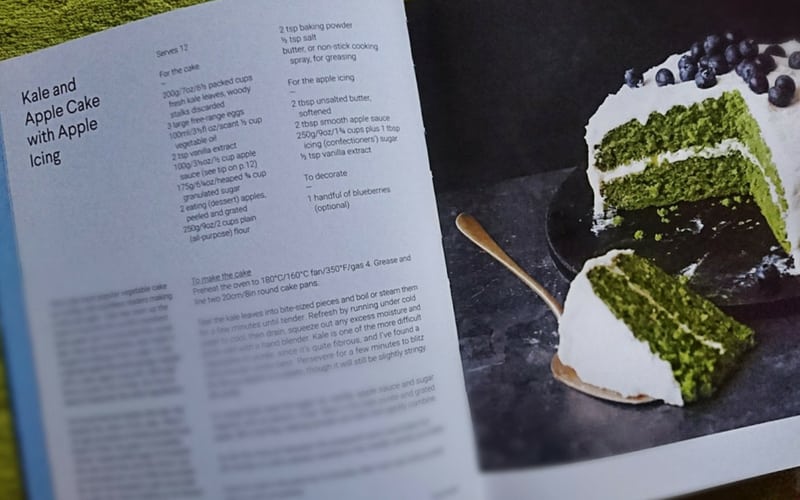 Kate's Famous Kale and Apple Cake Recipe
Ingredients
200

 

g

 

kale

 

raw, woody stalks discarded)

3

 

eggs

100

 

ml

 

vegetable oil

2

 

teaspoons

 

vanilla extract

100

 

g

 

applesauce

175

 

g

 

granulated sugar

2

 

apples

 

peeled and grated

250

 

g

 

plain flour

2

 

teaspoons

 

baking powder

½

 

teaspoon

 

salt
For the Apple Icing
250

 

g

 

icing sugar

2

 

tablespoons

 

butter

 

softened

2

 

tablespoons

 

applesauce

 

smooth, puree if necessary

½

 

teaspoon

 

vanilla extract
Instructions
Preheat oven to 180C/350F. Grease and line 2 x 9" round cake tins with baking paper.

Tear the kale leaves into bite-sized pieces and boil or steam for a few minutes until tender. Refresh by running under cold water, drain and puree well with a hand blender.
**Kale is one of the more difficult vegetables to puree since it's quite fibrous. I've found that a hand blender works best. Persevere for a few minutes to blitz the fibrous leaves to a paste. If necessary, add a little of the applesauce when pureeing to make it easier to blitz.**
It will still be slightly stringy. Set aside.

Beat the eggs, oil, vanilla, applesauce and sugar together well. Beat in the kale puree and grated apple. Sift in the flour, baking powder and salt and gently combine, taking care not to overmix.

Pour into the prepared tins and bake for 30 minutes or until an inserted skewer comes out clean. Cool for 2 minutes in the tins and then turn onto a wire rack to cool completely.
For the Apple Icing:
Sift the icing sugar into a bowl, add the other ingredients and mix until smooth
Store in the fridge until ready to use. Frost the completely cooled cake.
Recipe Notes
If you don't have applesauce, just peel, core and slice some apples, steam until soft and puree.