Anni Kriesche was a fashion designer who never imagined she would run her own business…but one day, inspired by a love for arts, crafts and traditional handmade techniques, she launched  Funky Soap Shop.
 Since setting up the handmade soap and shampoo business in her kitchen in 2013, she has served over 250,000 customers globally and has just opened her first bricks-and-mortar shop in Leyton, East London. Things really started to take of when she began selling her products through Amazon – and sales have grown 30% year-on-year as her customers seek out eco-friendly, all-natural alternatives to cosmetic products.
1)      What is your name and where do you live?
My name is Anni. I came to the UK from Germany 25 years ago to study. I now live in Hackney with my husband, 3 children, a dog, two cats and a bucket of fish.
2)      What is your favourite soulventure?
Walking along the coastline in Northern Germany, enjoying the beautiful Art Deco architecture while eating Sea Buckthorn ice cream.
3)      What's something that no-one would guess about you?
I have taught my kids how to ride a bike, but I am yet to master that skill myself!
4)      What single thing would improve the quality of your life?
To have my mum and dad living closer, so I could spend more time with them.
5)      If you could be doing anything, anywhere, right now, what would it be?
That's easy: the Christmas market in Erfurt, Germany, with a warm Gluehwein in hand. Then to go for a ride on the ferris wheel and from the top, look down over the town and the people in it and gaze towards the Medieval architecture beyond.
6)      Of what are you most proud?
I'm so lucky that I can to come into work every day to a business that I started from nothing in my kitchen to do things that I absolutely love to do. I am so proud of the team that has come together over the years to make Funky Soap Shop a reality and a success.

7)      Who do you most admire and why?
Martha Stewart has always been an absolute inspiration. Years ago, I read on her website about soap and soap-making techniques… and it planted a seed in my head that would grow to be Funky Soap Shop. She inspires me in so many ways, not just her ideas but also how she has lived her life. She doesn't allow difficulties to stop her from moving forward, she just shakes them off and keeps going.
8)      Best kiss of your life?
Well… I'm not sure I can share that with you.
9)      What is a new skill you'd like to learn (and why?)
Oh… so many things! I would love to go on a proper cookery course and make vegetarian Indian food – the smells and textures are so wonderful. Right now, I also have an intense desire to learn computer programming and website building. I know what I want to build, I just lack the knowhow!
10)   Woods, mountain, city or sea?
The Baltic Sea in Germany – so many happy memories for me.
11)   If you could say one thing to lots of people, what would it be?
Don't regret anything, it holds you back.
12)   What makes you happy?
Simple pleasures… my amazing supportive husband, my children, long walks with my dog on Hackney Marshes and swimming in the lido in the cold rain.
13)   What is your guiltiest pleasure?
Box sets on Netflix… and Take That.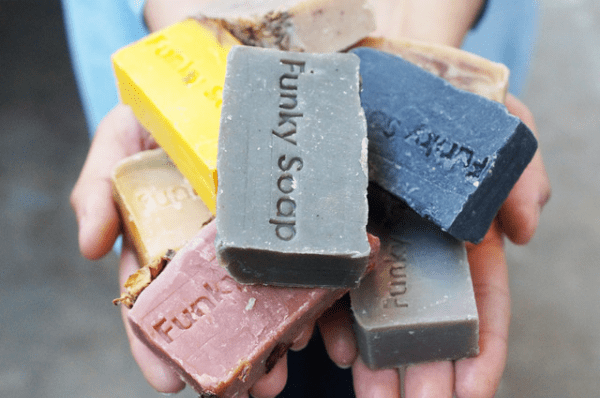 Discover natural, chemical-free products from Funky Soap Shop on Amazon now!