I remember a few years ago bemoaning to a neighbour about having to pull my trainers on because I hated running with every inch of my being. He asked me why do it then, what is it that I am running from? It made me think… am I running from something? Why did I run if I hated it so much? But no, I knew that I wasn't running away from anything. I was running towards being free, being healthy, being pain-free, and being ALIVE.   
And still I run. In fact, at the end of May I am due to run my 4th half marathon. People who knew the old me knows that is an insane statement for me to make; I'M TRAINING FOR MY FOURTH HALF MARATHON. The old me would laugh through a cider-fogged hangover and wonder how (and why) the new me runs when she hates it so much.
But I run with everything I've got. Even when I've not slept and I've been running around after my little boy all week and burning the midnight oil hunched over my laptop writing, I put my trainers on and I train. In the rain, the hail and the cold – because I can. Because I am healthy, and because I'm alive. And because now – Laura is not…
On May 27th 2017 my darling Laura died.
Even typing that sentence brings tears to my eyes and a massive goose egg in my throat. I don't even think I've had the courage yet to refer to her in the past tense. It feels like it isn't true, it can't be true. I feel like next week she'll phone me with a stupid voice pretending to be someone else like she always used to do, and it'll all be a big prank. How can it be real when she's so alive, so vivacious, so bloody brilliantly wonderfully 'Laura'?
But no, last year my angelwanny Dipsister partner-in-crime left this earth to join the stars after living with breast cancer for 8 years. And boy, did she live. She really bloody lived, and she filled every last second in the best way she could. She not only ran half marathons, full marathons and carried out enormous treks through Peru and Iceland, but she did it all whilst battling this f*cking evil disease. Not only all this, but she did it all smiling. Hell, she once even ran the Plymouth half marathon just 3 days after having a full blood transfusion,keeping the rest of us going (of course) with her motivational words and enormous smile. Through the pain and the tears, always that gorgeous smile… what i wouldn't give to see it just one more time, willing me over the finish line…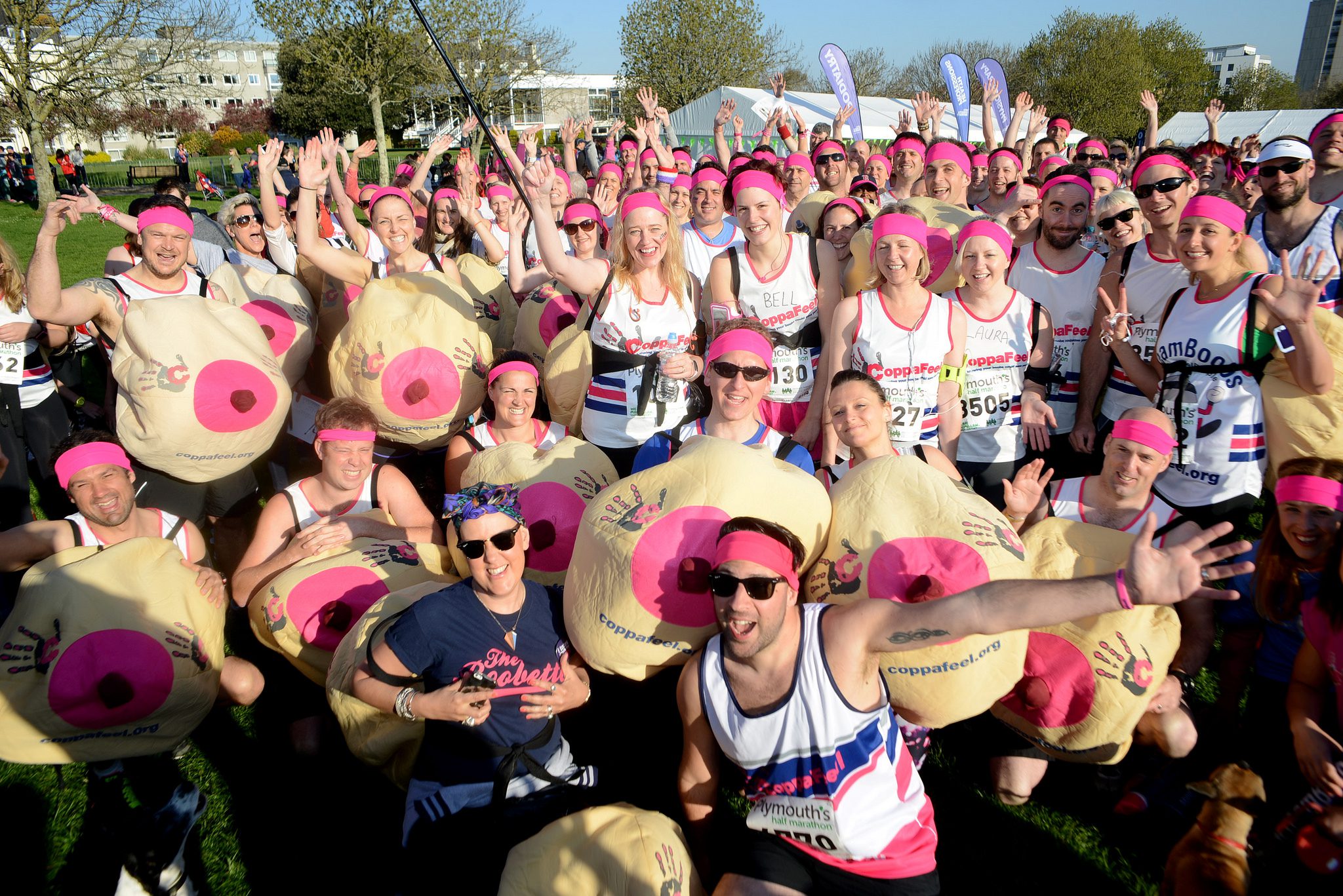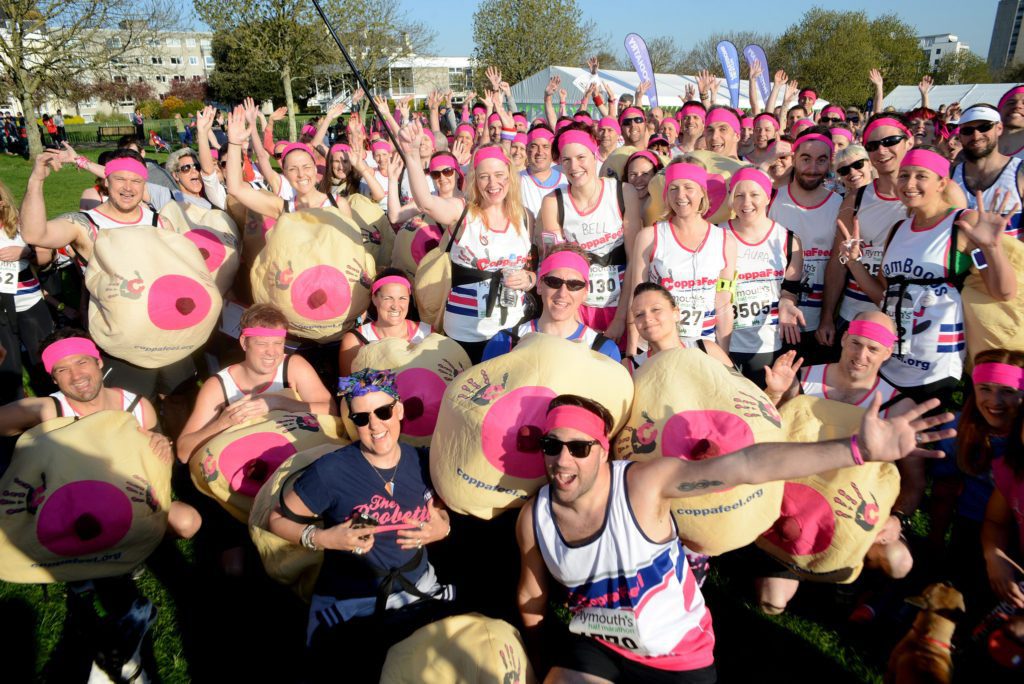 Becoming "Dipsisters"
I first met Laura through her husband Jon, who had been best friends with my husband Toby from the age of four. It was 2005 and I had recently moved back to the Westcountry after a five year stint in London, and I couldn't get used to it. I missed my whirlwind life in London and the close friends I had made there – having to start again by making new friends and find a new career in my mid-twenties was hard, and I didn't like it one bit. But Laura and I instantly clicked – she had a cheeky sense of humour, a love of food which (nearly) matched mine, and we just seemed to gel right away. She made me feel welcome and part of 'the gang' (as our little gaggle of friends became known), and my friendship with Laura quickly blossomed and flourished into something I held precious.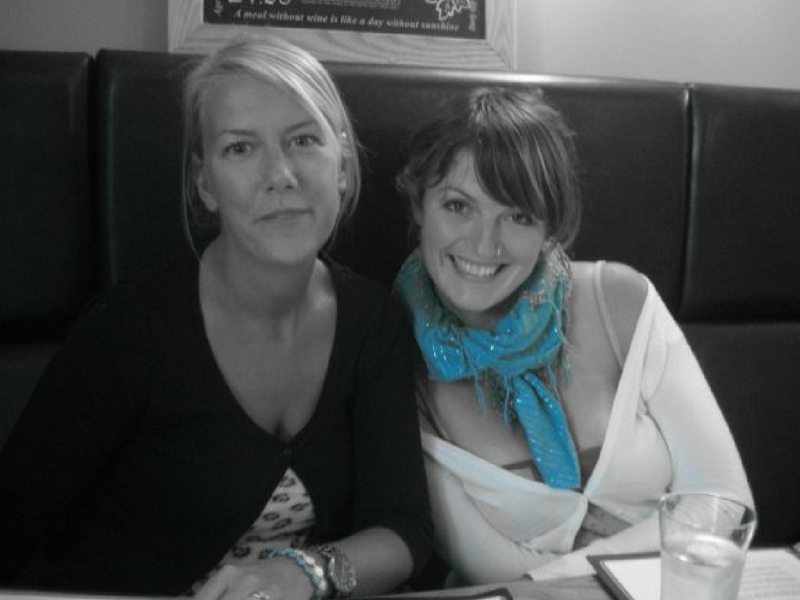 Lycra, Hairspray and Sparkles
Our favourite and most treasured way of spending time was laying on the beach in the sunshine, reading 'jazz mags' as we called them (the cheap gossip kind, not the porny kind), eating crisps in the sunshine as we dissected the outfits, gossip and weight gain of every minor celebrity to grace the pages of Grazia, Heat and Love It.
God, looking back those days seem so frivolous and carefree… there was no cancer, no pain, no heartache. We had no conscience about the poor people we were dissecting (!) and we were young, free and happy. We had our whole lives ahead of us. Or so it seemed at the time.
Laura loved to dance and loved to party – fancy dress was a particular favourite of hers. Hair metal lycra, 50s rockabilly, Dirty Dancing, 80s prom and Christmas sparkle were favourite themes for Laura and the gang and when we went for it, boy did we go for it. Those were the few years where every weekend seemed to be a whirlwind of hen dos, weddings or birthday parties – life enhancing milestones which made everyone bond and celebrate and look forward to the years ahead.
CANCER the C*NT
On June 6th 2009 it was the turn of Toby and I to get married. As usual Laura was the life and soul of the party, dancing and getting everyone up on the dance floor, and we had the most magical  day surrounded by our amazing friends and family.
It was just like Laura not to tell anyone that she'd found a lump a few weeks before… a lump which, a few days after our wedding she found out was not only cancerous, but it was advanced and already stage 4. For anyone who doesn't know what that means… there is no stage 5. She hadn't told anyone because she didn't want to worry anyone or impact on anyone else's happiness… a generous trait which over the next few years was to become so very typically Laura.
You see the lump she had found was big, and it was a fast grower. Laura and Jon had spotted it just a few weeks prior but, despite eventually seeing a doctor (and then another one, because the first said it was 'just hormones and she was WAY too young to have breast cancer'), the lump in Laura's breast had grown quickly. The (first) evil twist in this tale is that it her particular type of breast cancer fed on hormones, which meant that her young age and good health actually worked against her – propelling her cancer and feeding it with the hormones of youth which were happily dancing around her beautiful body.
Chemo, radiotherapy, medication, hospital visits, scans… it all started so quickly and the speed and the ferocity of the treatment almost took my breath away. Just seeing how much my dear Laura had to endure made me think that in years to come the 'treatment' of chemotherapy will be thought of as archaic as the brain shock therapies of ye olden days. It was brutal and barbaric.
Loss of Hair, Loss of Boobs…
First the hair loss; her beautiful long golden tresses were her pride and joy and it hit her hard to have to lose it. She kept it until the very bitter end- the little tufts on the side poking out from under her wig. The bald head on top making her look like (she said) Terry Nutkins. She politely smiled through it all and 'protected' us all from the harsh truth by wearing wigs, but she absolutely hated losing her hair.
Then the boobs – chopped up and chopped off, only to be replaced by faulty replacements which required multiple corrections. Because Laura's particular type of cancer was hormone-fed, they had to stop her hormones, which resulted in having an early menopause induced and taking hormone suppressants for five years. This all inevitably led to the heartbreaking reality that they would never be parents, something which they had both always hoped for and seen as part of their future together. This evil disease was relentless, it kept attacking and stripping everything Laura held dear. It would have had lesser mortals on their knees.
Only Jon and Laura will ever know the inner battles she (and both of them) endured in these early days, and the sorrow and heartbreak they both felt at losing so much of their world.
But we rallied around, we kept busy and smiling, we had regular days out/nights out/meals/sleepovers to try and be as normal as possible and ignore the huge menacing dark shadow looming in the corner. Which of course we couldn't ignore…but we tried. And because Laura was so positive and upbeat, we did our crying at home.  
CoppaFeel!
Laura of course went above and beyond. She began campaigning for the breast cancer charity CoppaFeel!, – a charity which encourages young people to get to know their boobs so that they can spot any differences in the breast early which gives a greater chance of having your breast cancer treated. Yes TREATED.
If breast cancer is found early enough, it can be CURED.
CoppaFeel's message which Laura tirelessly worked hard to educate the young people of the UK about is so vitally important because if she had been aware of the importance of checking your boobs early, she might still be with us today.
Perhaps that is part of what makes it all so painful – that if Laura had been aware of CoppaFeel's message earlier then her story might have played out so differently (and not ended at all)….
However, a quick shake up and I force myself to realign my thoughts again. I have learned that dwelling on the past and thinking about the 'what ifs' is toxic, so I try not think about that.
Instead I plough all of my energies into helping to spread CoppaFeel message – Laura would've wanted me to do this if nothing else. To continue her legacy in some small part makes me feel like Laura's death wasn't in vain, and hopefully she would be proud that her efforts and message is continuing even when she isn't here to do it herself.   

The Glastonbury Miracle
Laura and Jon adored music. It weaved throughout their love story like a golden unifying thread. Following Laura's passing, her husband Jon started a Twitter campaign to get the Foo Fighters to dedicate 'Everlong' to Laura when the band headlined the Glastonbury festival. Laura and Jon's first dance at their wedding was Everlong and so it held very special meaning for them and Jon wanted to do something incredible in his wife's honour.
None of us watching could quite believe it when Dave Grohl stood on the Pyramid Stage at Glastonbury and said those now immortal words,
"I'd like to dedicate this song to someone named Laura, who couldn't be here tonight. But we should all dance this one for her".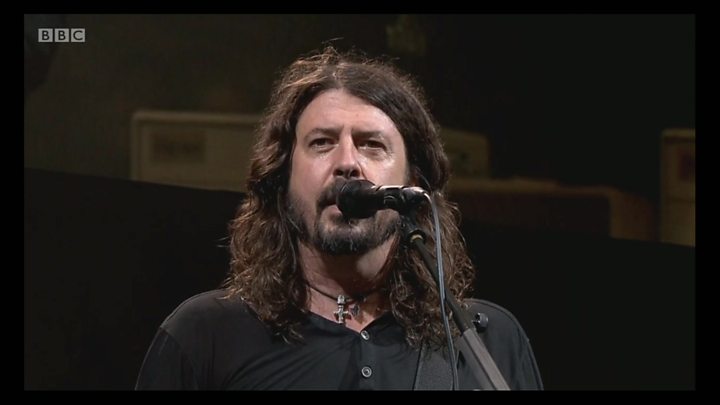 I know right? Un-believe-able.
But this is simply testament to the power of Laura, the tenacity of Jon, and the unwavering support from all those who love them.
And so following on from the (still unbelievable) Glastonbury success, it seemed only fitting that Jon should hold a festival-style party where music and celebration played centre stage. A few of us rallied around, and we managed to pull off a proper little festival in less than 6 weeks. There was dancing, there were flamingos, there was cake (so much cake) and amazing live music, all there to celebrate the amazing life Laura lived. Yes it was reflective and poignant (and there were more than a few tears), but it somehow managed to be the most heart-filled uplifting and life-affirming day filled with smiling faces and glittery dancing merry-makers. It was incredible, and we raised £6k for CoppaFeel! to boot.
LauFest is Born
It was so incredible in fact that we decided to make it an annual event, and so the next LauFest (as it has now been named) will be held on the weekend of 28th July (which would have been Jon & Laura's 11th wedding anniversary) in the same field in Wembury on the outskirts of Plymouth.
I think Laura would love what we're achieving with LauFest. She'd be embarrassed at the attention, and definitely have FOMO, but I really think she'll be smiling down and be proud of the festival and what it stands for. She'd be proud that we're continuing to spread the CoppaFeel! message, and she'd be enormously proud of Jon, with how he is coping with everything, and how he is turning a tragedy into something positive. Which is exactly what she did.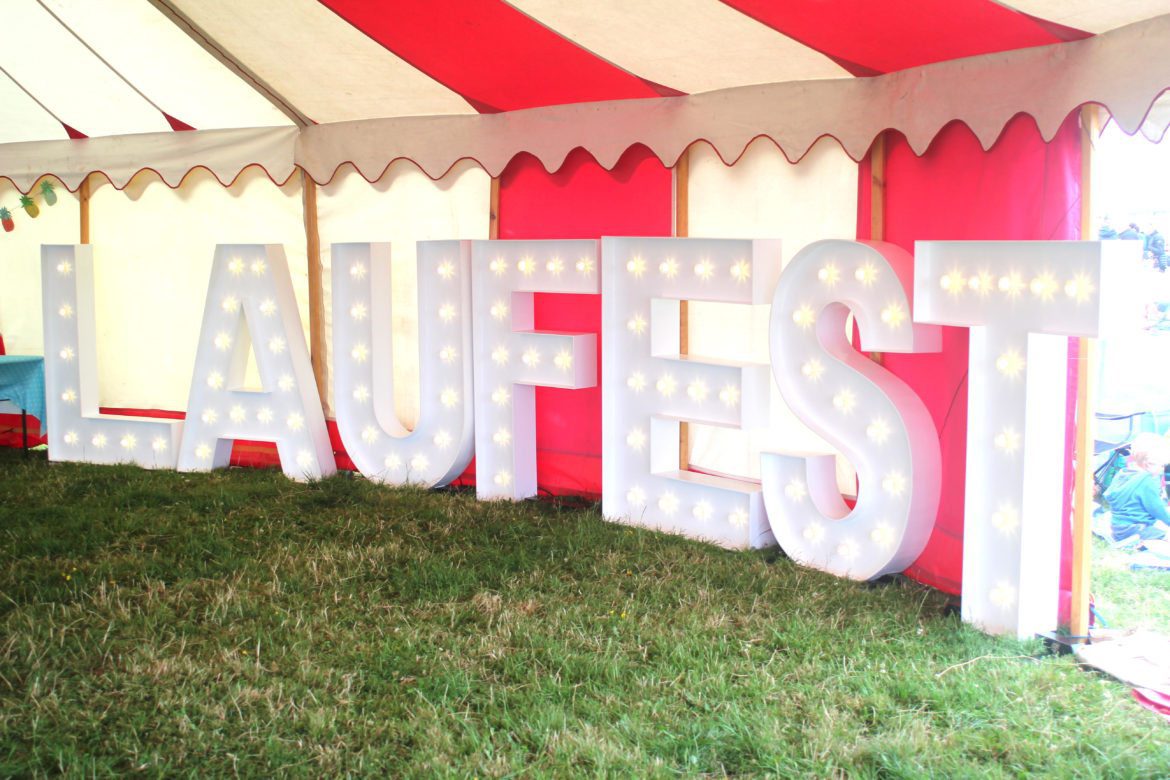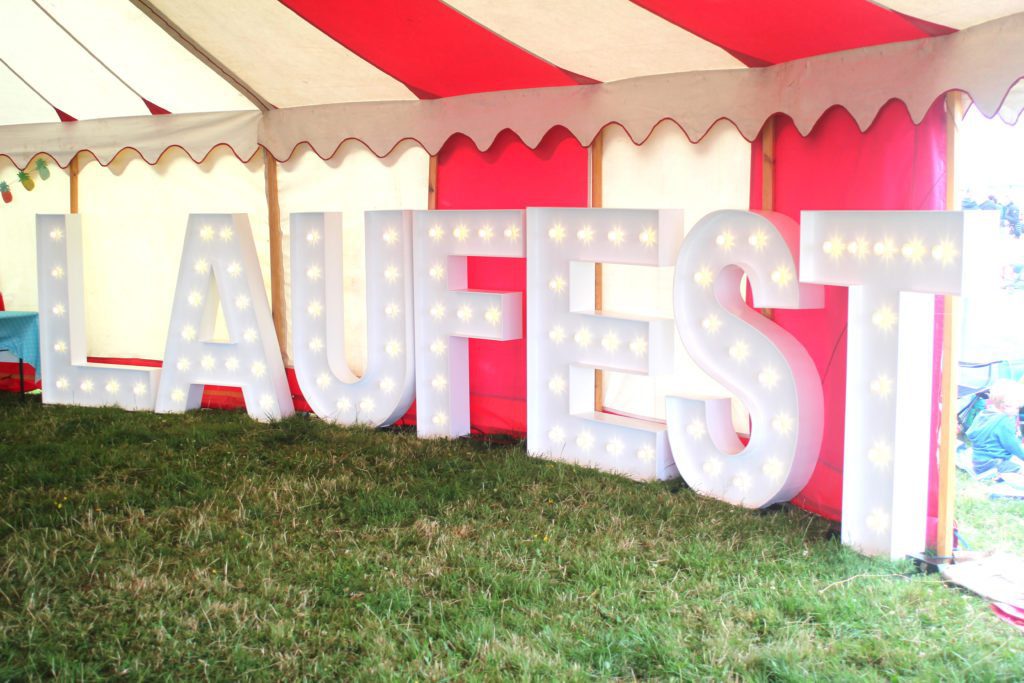 Join Us
So join us. Join us in wearing the lightning bolt sweatshirts, join us in wearing the Coppa-Flamingo tshirts and tropical flamingo leggings. But most of all please join us on the weekend of July 28th as we celebrate Laura, celebrate life, and celebrate being here to carry on her message and her legacy. She would've really loved it… and although it shatters my heart daily that she isn't here to see what we're doing, I know that she's watching us, smiling wryly, and proudly dancing to Proud Mary… and that's what pushes me forwards. I love you Dipper xxx
See you in the field of dreams!
 Tickets, info and merchandise: